arredo bambole / dolls furniture



Culla bambole / Dolls cradle
Con trapunta. 49x31x27 cm.
With quilt. 49x31x27 cm.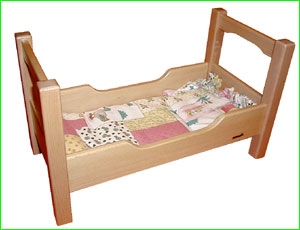 Lettino bambole / Dolls bed
Con trapunta. 60x30x35 cm.
With quilt. 60x30x35 cm.
Letto a castello / Dolls Bunk Bed
Si divide in due culle o lettini. Con trapunte. 45x29x43 cm.
With quilts. 45x29x43 cm.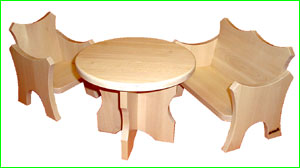 Tavolo e due sedute per bambole e bimbi 1-3 anni
Table and two chairs for dolls e 1-3 year old kids.
Colori: faggio naturale, rosso, giallo, blu
Misure tavolo: 29x29x23 cm.
Misure panca e sedia: 31x19x25.5; 17x19x25.5 cm.
Colours: wood color, red, yellow, blue
Table sizes: 29x29x23 cm.
Chairs sizes: 31x19x25.5; 17x19x25.5 cm.